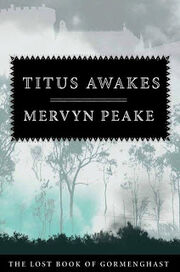 Titus Awakes
is a book written by
Maeve Gilmore
based upon notes by
Mervyn Peake
and first published in June 2011 by Overlook Press.
It can be considered the fifth of the Gormenghast books, though not part of the trilogy.
Ad blocker interference detected!
Wikia is a free-to-use site that makes money from advertising. We have a modified experience for viewers using ad blockers

Wikia is not accessible if you've made further modifications. Remove the custom ad blocker rule(s) and the page will load as expected.